Al-Bronze Alloy Valve
Aluminium bronze is a type of bronze in which aluminium is the main alloying metal added to copper . A variety of aluminium bronzes of differing compositions have found industrial use, with most ranging from 5% to 11% aluminium by weight, the remaining mass being copper; other alloying agents such as iron, nickel, manganese, and silicon are also sometimes added to aluminium bronzes.
Aluminium bronze valves are highly suitable for corrosive, saline environments. The common specification is ASTM B148 C95800 although the AB2 specification is also use. These are similar to C95500 and C95400 specifications, and offer good castability, reasonable bearing material, easy machining and high tensile strength.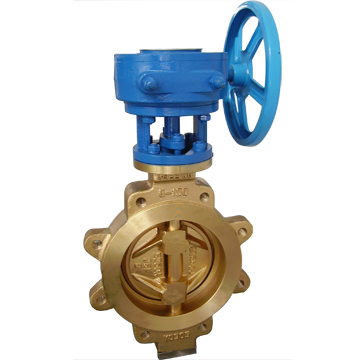 Al-Bronze Ball Valve                                                                      Al-Bronze Butterfly Valve
             Al-Bronze Gate Valve                                                                       Al-Bronze Globe Valve
Compositions
| | | | | | | |
| --- | --- | --- | --- | --- | --- | --- |
| Alloy | Aluminium | Iron | Nickel | Manganese | Zinc | Arsenic |
| CuAl5 | 4.0% – 6.5% | 0.5% max | 0.8% max | 0.5% max | 0.5% max | 0.4% max |
| CuAl8 | 7.0% – 9.0% | 0.5% max | 0.8% max | 0.5% max | 0.5% max | |
| CuAl8Fe3 | 6.5% – 8.5% | 1.5% – 3.5% | 1.0% max | 0.8% max | 0.5% max | |
| CuAl9Mn2 | 8.0% – 10.0% | 1.5% max | 0.8% max | 1.5% – 3.0% | 0.5% max | |
| CuAl10Fe3 | 8.5% – 11.0% | 2.0% – 4.0% | 1.0% max | 2.0% max | 0.5% max | |
| CuAl10Fe5Ni5 | 8.5% – 11.5% | 2.0% – 6.0% | 4.0% – 6.0% | 2.0% max | 0.5% max | |
 Al-Bronze Alloy Valve Specification
Size Range:
1/2″ – 24″ / DN15 – DN600
Pressure Ratings:
Class 150LB, Class 300LB,CLASS600LB , CLASS900LB / PN10~PN250
Design Standards:
MSS-SP80 / BS5154/BS1873 ASME B16.34,EN3356/EN13709,BS5156, API602/ ISO15761/BS5352, GB/T12235
JIS B2071,JIS B2072,JIS B2081,JIS B2082
End Connections:
Flanged ASME B16.5, EN1092-1 (Flat Face FF or Raised Face flange (RF) , RING TYPE JOINT FLANGE(RTJ))
Face to Face:
ASME B16.10 , EN558-1
Globe valve Type
Through way type , Y type Globe valve, and Angle Type globe valve, OS&Y, Rising Stem .
DISC
Plug type disc, regulating disc(throttling disc) ,regular disc,
Seat
Integral Seat , Optional Extras Renewable Seats 2″/ DN50 and above
Operated type
:Hand wheel , Gear Operated, Pneumatic Operated, Electric Operated, Impact Hand wheel Operated
ASTM B148 C95500,ASTM B148 C95800,ASTM B148 C95400,ASTM B62, ASTM B148 C83600,ASTM B61,ASTM B62 C92200, B150 C63200
Pressure Testing:
API 598 or BS EN 12266-1:2003,DIN3230